Get The Best Canam Buggy Dubai Experience
The Canam buggy Rental and tour is a thrilling, exciting, and unforgettable experience that amazes you. Zipping through Dubai desert dunes in Canam Maverick X3 xrs turbo rr is a must-do activity that will be a source of great fun. 
We at off-road adventure fun are bringing an incredible Canam dune buggy Dubai with a professional guide and advanced safety equipment. 
2 Seater Canam Dune buggy rental and tours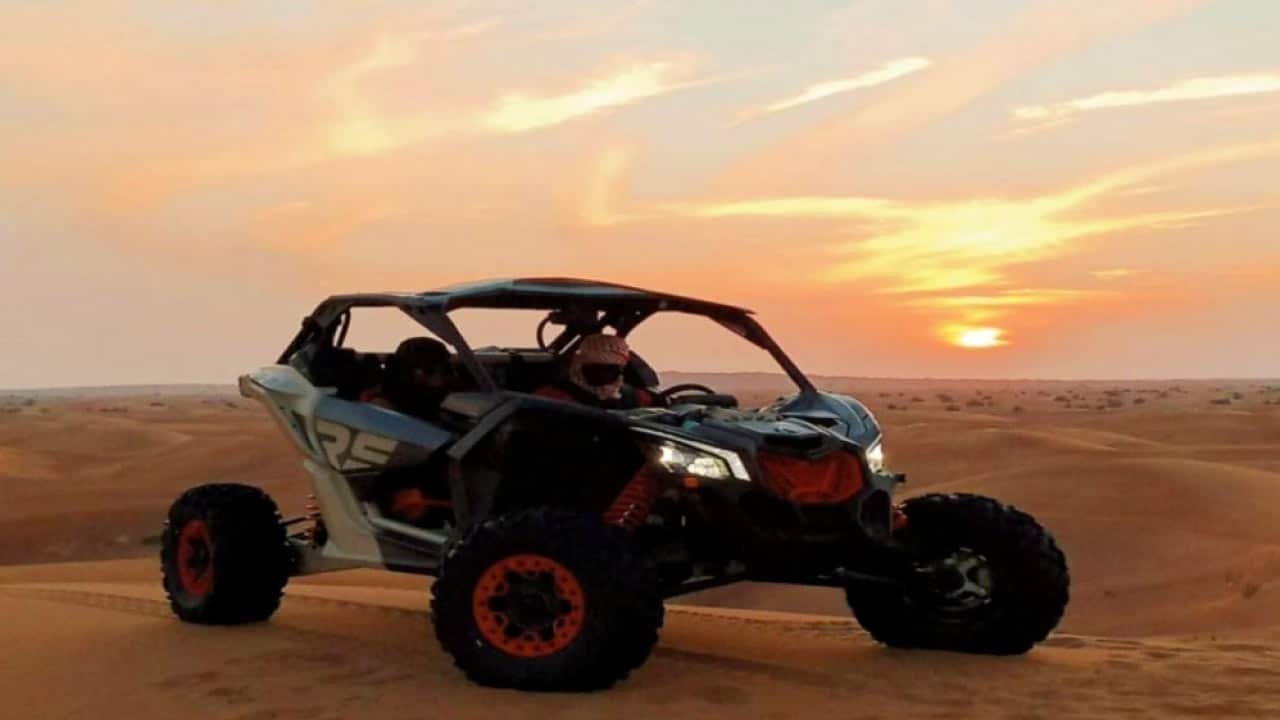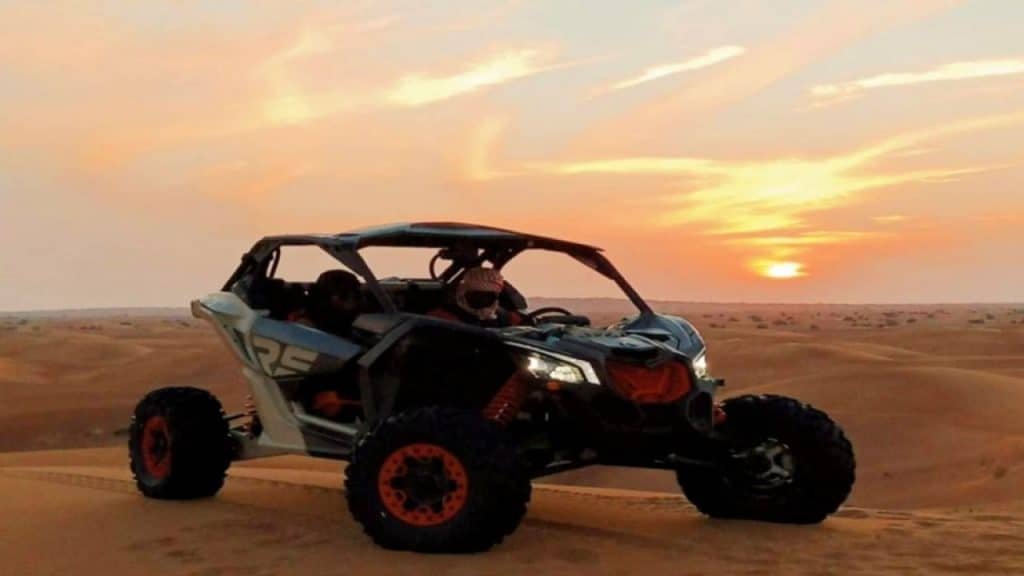 Canam Buggy Tour
(30 Mins) 850 AED
Explore the Dubai desert compellingly and uniquely with our 30-minute Canam buggy tour. Our canam buggies are highly powerful, secure, and fast, allowing you to enjoy a tremendous off-road riding experience.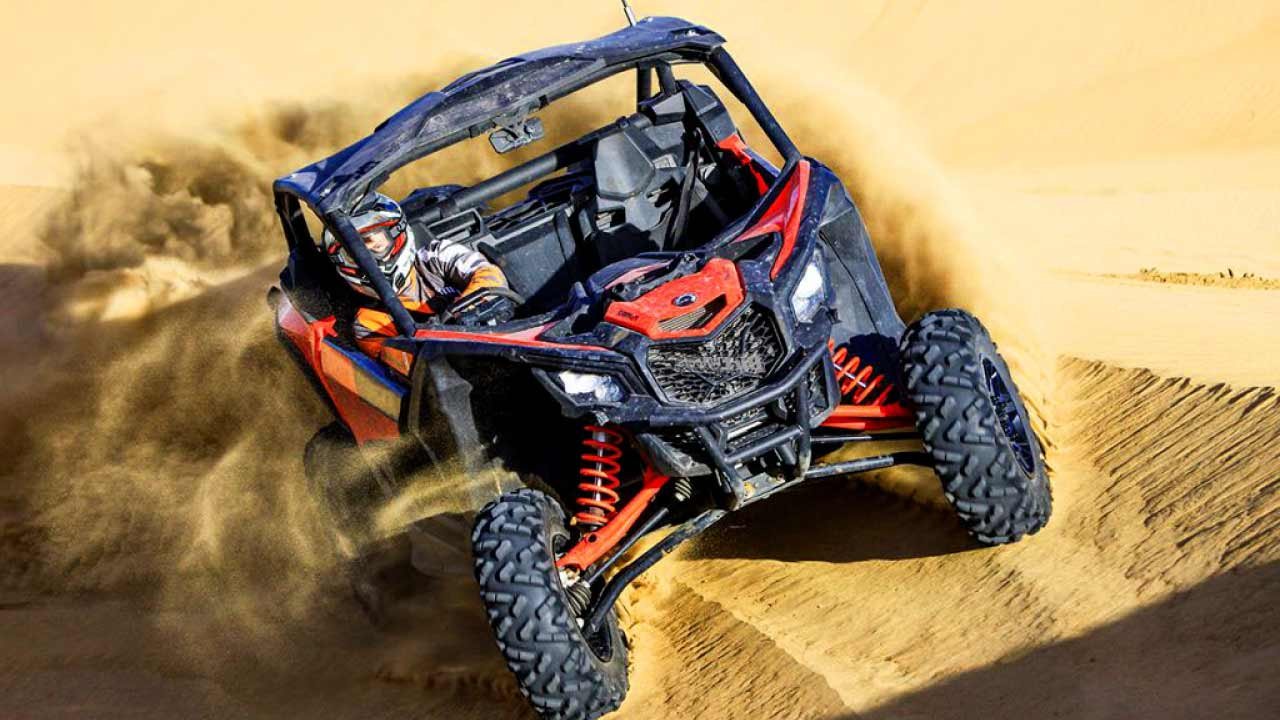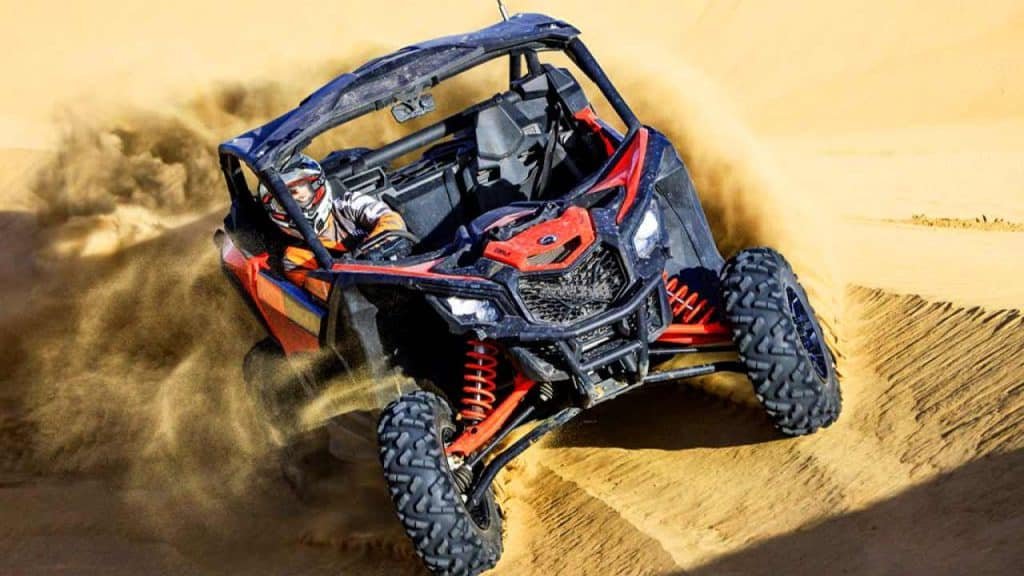 Canam Buggy Tour
(1 Hour) 1399 AED
Canam Tour Dubai is a delightful and thrilling ride for adventure enthusiasts. We offer the best Canam tour packages include with tour guide, safety equipment to provide unforgettable riding.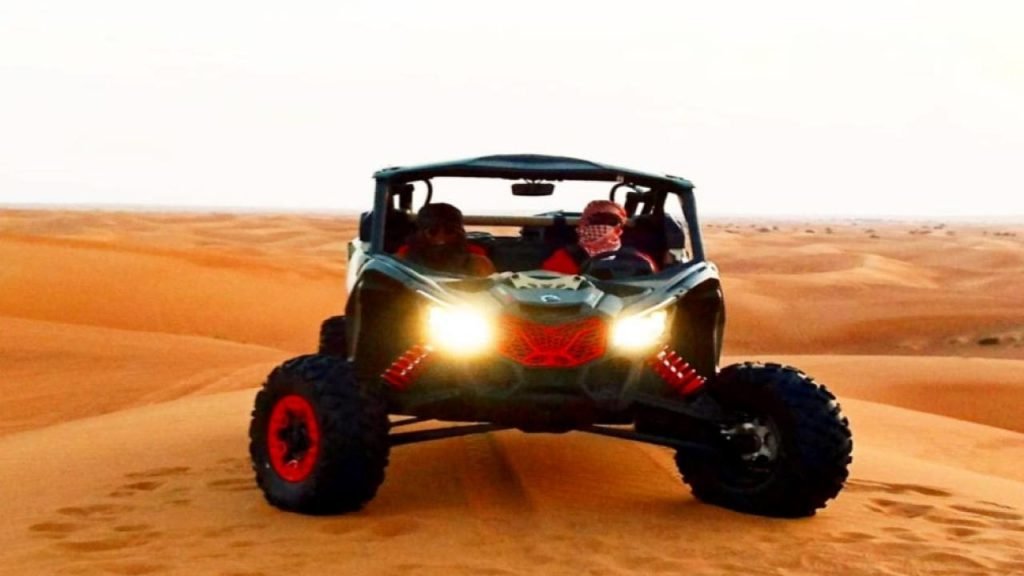 Canam Buggy Tour
(2 Hours) 2499 AED
Enjoy the thrilling Dubai desert ride across red dunes with our 2-hour canam buggy tour including tour guide, safety gear. It will be an unforgettable thrilling self-drive canam buggy tour.
4 Seater Canam Maverick x3 Buggy Rental Tours
4 Seater Canam Buggy Tour
(30 Minutes) 999 AED
Have an incredible group off-road adventure in the Dubai Desert with our four-seater can-am buggy tour consisting of 30 minutes. Our buggies are compelling and safe.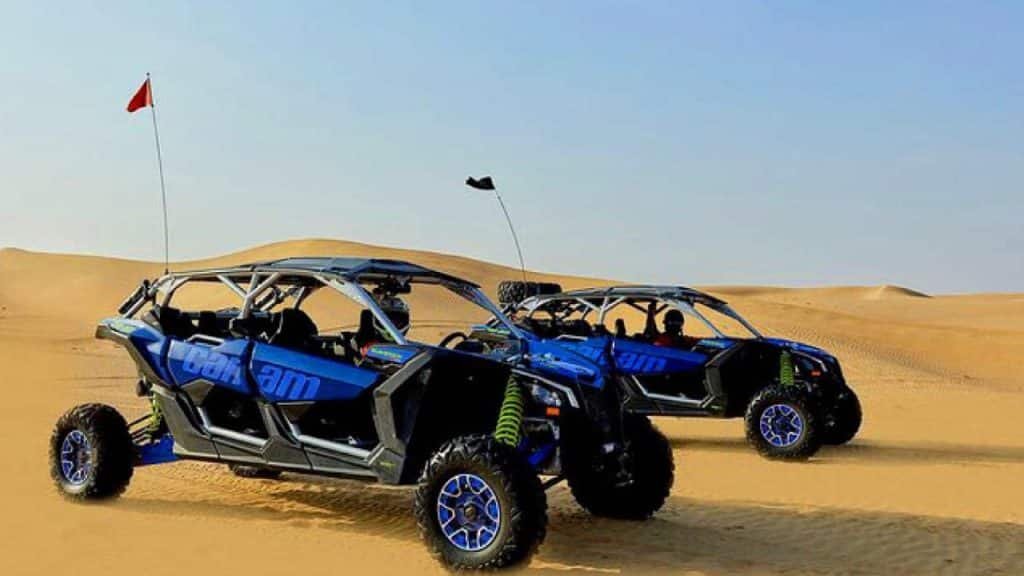 4 Seater Canam Buggy Tour
(1 HOUR) 1690 AED
Experience the thrill and excitement of riding through the Dubai Desert with our four-seater canam buggy tour. This 1-hour ride will give you lifetime memories as you can explore the desert uniquely.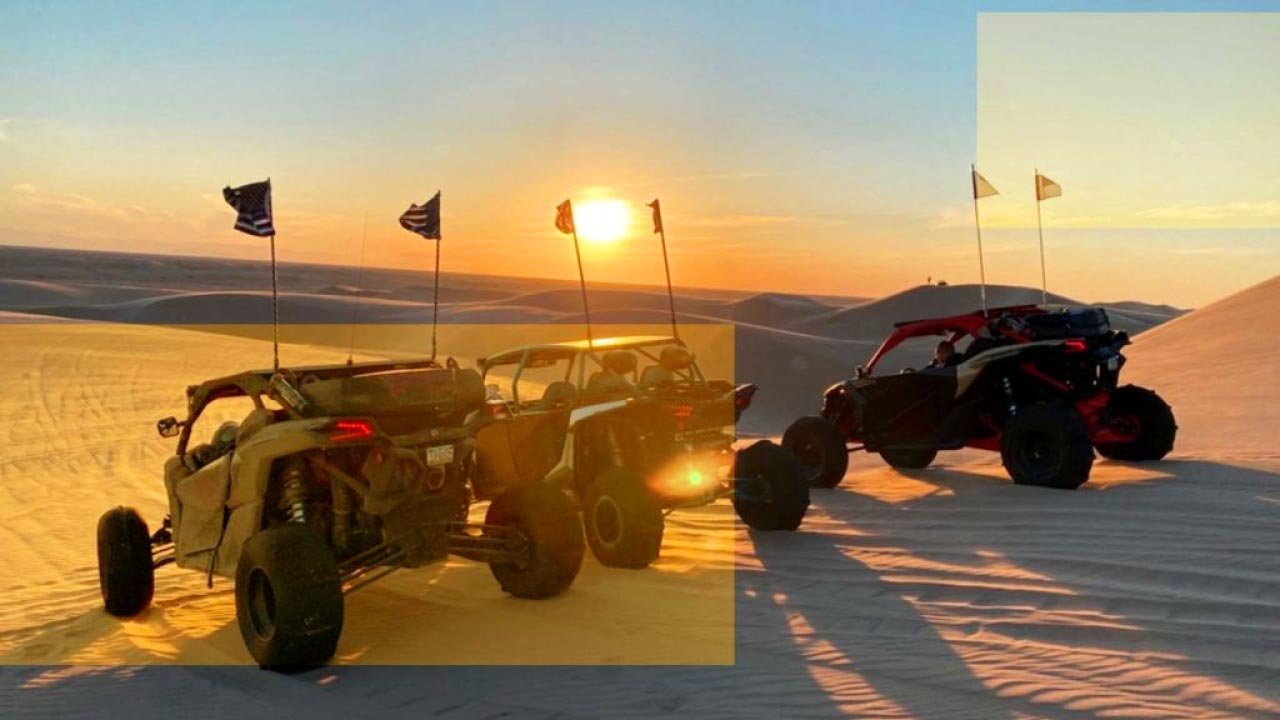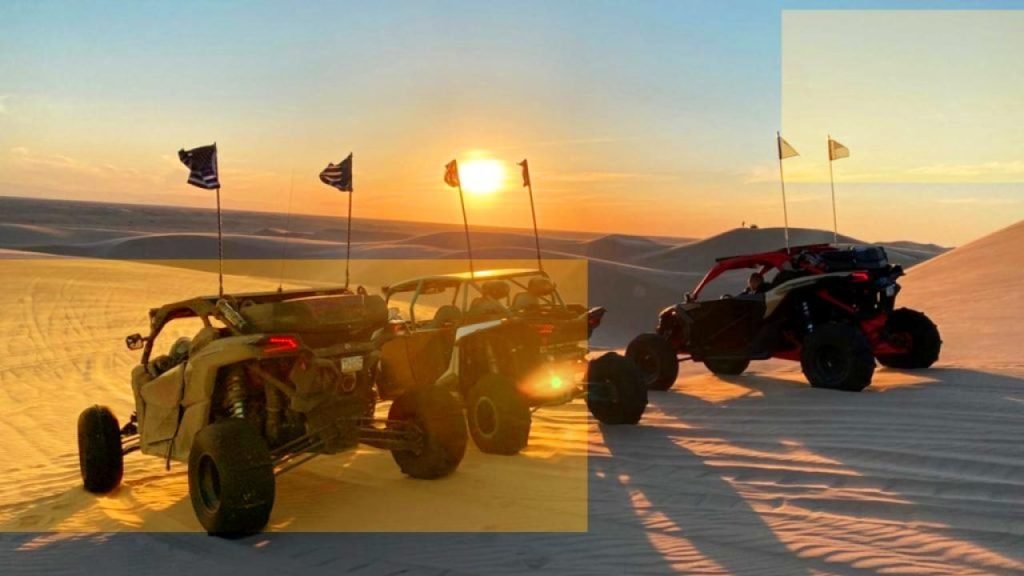 4 Seater Canam Buggy Tour
(2 HOURS) 2890 AED
Make lifetime memories by experiencing our 2 hours canam buggy tour with the best tour guide and safety gear. Our 2-hour canam ride is designed especially for adventure enthusiasts.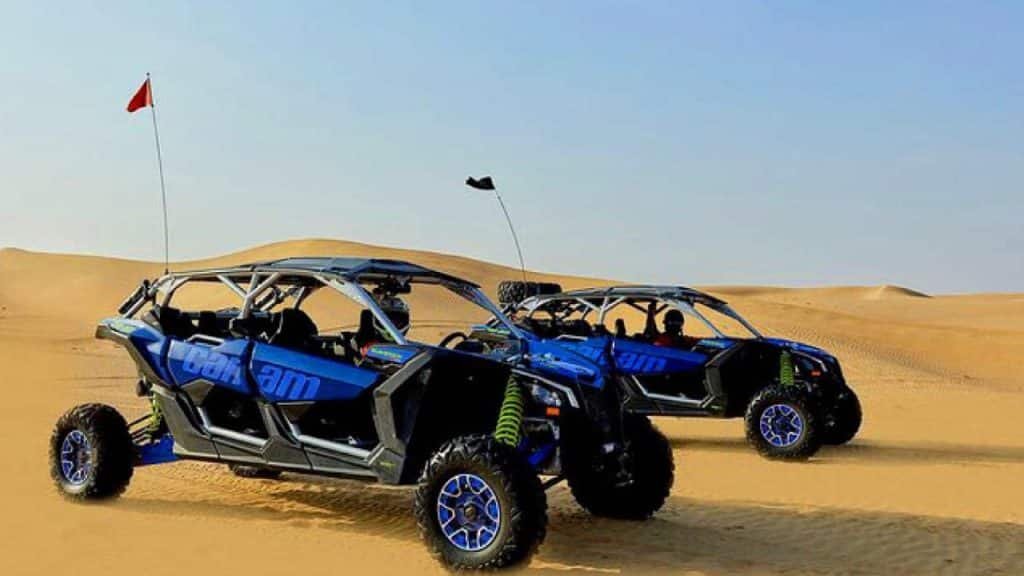 Are you looking for a professional, reliable, and affordable Canam dune buggy rental Dubai and camel rides experience during a trip to Dubai? Off-road adventure fun comes with the best Canam buggy Rental Dubai deals and packages to enjoy safe and thrilling off-road rides through the dunes.
You can explore the red dunes in our powerful and advanced Canam Maverick X3 turbo rr buggies, ensuring an incredible offroad adventure tours riding experience. 
We offer multiple Canam buggy rental Dubai deals from which you can choose per your budget and concerns. However, all our tours have safety equipment, a professional tour guide, refreshments, and more.
Our vehicles are fully maintained, advanced, and secure and thus come with automatic gears that bash the Desert sand excellently. We offer Canam buggy rental Dubai with pick up and drop off service at affordable Prices and refreshments.
Why Choose Off Road Adventure Fun for Canam Buggy Rental Dubai
Zipping through the red dunes on high-end canam buggies in Dubai is a must-do activity for adventure enthusiasts. We allow you to enjoy exciting, secure, and enjoyable canam buggy rides under our professional guidance. 
You can have a remarkable off-road riding and unforgettable thrill of driving experience by picking our great canam buggy Dubai tour.
 In our high-speed, powerful, and advanced vehicles, you can fly through the red dunes while enjoying the spectacular views of the desert. You can make this experience more enjoyable, convenient, and memorable experience for your family and friends with us.
Highly professional and helpful tour guide by our expert staff 

Well-maintained, secure, and robust Canam Maverick X3 buggies with automatic gears 

Pick-up and drop-off at your location 

Affordable Canam Buggy Tour Dubai packages and deals 

Two and four seat canam buggy options.
With us, you can enjoy the ride safely and excellently to grab more fun.
Our highly maintained, fast, safe, advanced vehicles provide incredible off-road riding experiences across dunes. We offer the best Canam Maverick X3 buggy tours package and deals. 
You can choose from the Canam buggy morning dune bashing and evening Canam maverick x3 srs Turbo RR ride in giant red sand dune.
We offer hassle-free pick-up and drop-off, along with many other features.
Book your ride with us for a safe, thrilling, and exciting Canam buggy riding experience in Dubai.
Frequently asked questions
Our buggies can achieve a top speed of 110-120km/hour. However, it is advised to go at a slower speed to avoid any mishap.
Here is no particular dress code. You should wear comfortable clothes to enjoy your adventure to the fullest.
We have a minimum age requirement of 18 years. All our buggies can accommodate children, but minor children are prohibited from riding along.
You can pay through PayPal, Bank Transfer, or cash if you want to pay on the day of your ride.
No license is required for Off-Road Vehicle Ride like buggies and bikes —only a Passport is required for Canam Buggy Tour.
You need to book your ride in advance and bring the receipt of payment or cash if you want to pay on the day of your visit.