To experience the inside beauty of sparkling nightlife and grant restaurant of Dubai city, make sure you don't miss the chance to discover the mesmerizing golden desert through the Quad bike. If you want to experience the thrill of Quad Bike, then picking the reliable services of quad bike rental Dubai is the best option for you.
Dubai City is by far the best and a dream destination for tourists to experience the real fun of a quad bike ride. No matter whether you are traveling with your friends, or solo, having excellent Quad Bike Rental Services in Dubai will work best in your favor to give you riding experience extra fun and excitement.
Defining the term quad bikes is about the four-wheeled vehicle which is all driven off-road and is quite a popular adventurous activity which the travelers of Dubai can experience all the time. Any individual who is at the age of 18 can take the fun out of this ride with plenty of thrills and spills in the mesmerizing landscape of Dubai deserts. Hence, riding your bike into the beauty of the endless desert has been a tourist attraction for all the travelers in Dubai City.
Hiring Quad Bike Rental Dubai for your Trip
Yes, you can pick the renting services in Dubai for a memorable quad bike riding experience. You can easily rent a bike in Dubai according to your requirements and preferences. Just pick any of the quad renting stores in Dubai and find something which falls into your requirements. You need to consider the quad bike in a variety of sizes and engine capacity. Just pay a refundable deposit amount, and simply head to any public place you wish to simply ride in.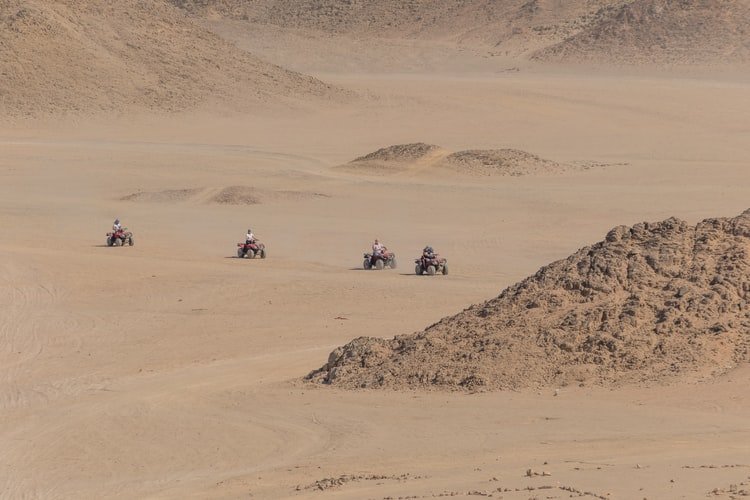 If you are traveling into Dubai city for the first time, then obviously renting the quad bike is not the perfect option at all. You might be lost the bike or even damage the property for which you need to pay a special price. You should be getting in touch with a reliable cheap quad biking Dubai Company or rental operator in UAE who knows all the basics of helping you in renting the quad bike.
Which is the best company to offer quad bike rental services?
To get the best services of quad bike rental in Dubai, there is no other best option than the "Offroadadventurefun". We are associated with this tour business for the last many years and with time we have improved so much in delivering the services of quad bike rental which is according to our customer satisfaction.
As you get in touch with us, you will be getting to know about our different packages where each of the packages is different from one another in terms of facilities and prices. Plus, we have a team of professional instructors who will stay by your side 24/7 against any issue or hurdle you get into.
Our prices have been so much affordable that it won't make you feel hesitant to get in touch with us. Contact us now and get our 100% guaranteed services to have some thrill in enjoying the beauty of Dubai City.
How to choose the best Quad Biking Experience in Dubai?
Let's share some tips with you to help you about choosing best quad biking experience:
Figure out your budget
If you are on some vacation, then it is obvious that you have moved on a trip with some budget in mind. You should avoid overspending and look for the combos to yet experience multiple attractions together and even save your time. Grab the fun of real dune bashing, exciting quad biking, camel riding, and a traditional Dubai meal.
Whom you are traveling with?
Another major aspect you need to be careful about is your fellow travelers. If you have a kid of 3 years old with you then quad biking is not for them. Plus, if you are visiting Dubai with some elderly parents, then you shouldn't choose quad biking.
Weather
We all know that Dubai is always hot around the clock! The Winter season is not suitable for doing quad biking. As biking is an outdoor activity, you should be careful about your clothing. Hence, look for the needed gear you are taking along with you.
Things you may want to know
1. Do you need any driving license to ride a quad bike in Dubai?
No, there is hence no need to have any driving license to ride a quad bike in Dubai. But there are some age restrictions which you need to be careful about.
2. How many bike-riding experiences you should have to enjoy quad biking?
It is a general requirement that the riders should be using a throttle and clutch control. All the companies in Dubai do offer expert guidance.
3. What is the minimum age restriction?
Riders need to be at the age of 15 years or above. Hence, Quad biking for kids in Dubai under this age is not at all allowed.